Hello Crafters!
Happy Monday!
This one actually is because . . . .
Welcome to the My Monthly Hero December Blog Hop!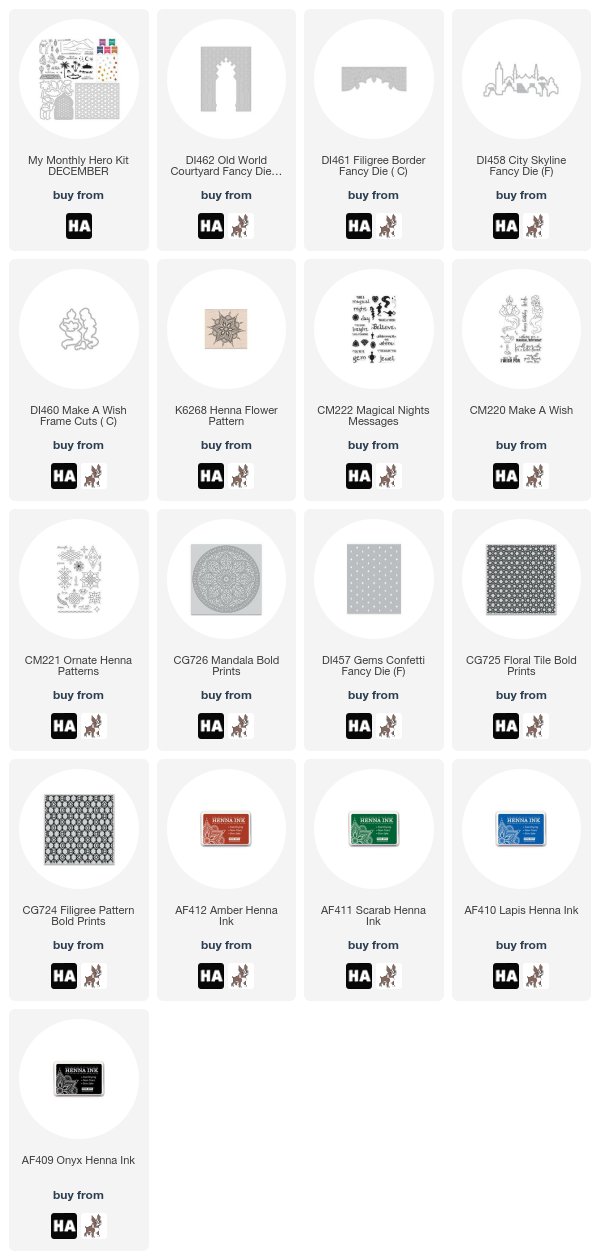 As soon as I opened the box the creativity started flowing. Unfortunately, time was also moving and I only got to make two cards.
I was drawn immediately to the large Mandella stamp. I think they are such a beautiful way to just relax and color. I really like this one in particular because it's detailed enough to be eye catching but not so detailed that it would take a year to color!
I stamped it in Hero Arts Black dye ink and used Distress Oxides to watercolor the background. Once it was dry I added in my own details. Which is honestly my favorite part! I used Copic markers to add bolder shading then alternated between a metallic gold and a white gel pen to add some dots and shapes.
I cut a small vellum circle to ground the sentiment which I heat embossed in white. I added a few gold sequins to accent it and that was it. I didn't want to cover up that gorgeous design!
Ready for the kit?
Me too!
You know we're making a scene right?
I mean, how could I not?!
Oh yeah!
I watched Aladdin in preparation for this card. Also, because I love Disney movies.
Yes, I'm grown. I have no shame.
I started by stamping and masking the dunes, Aladdin, Jasmine, and the magic carpet.
I then used Distress Oxides to create my sunset scene. I sprinkled on a bit of clean clear water and perfect pearls in order to create stars. I removed those masks and then added a bit of shading to my sand dunes.
I can't remember the last time I was as taken with a stamp as I am with those sand dunes. So many scenes have gone through my head.
I added Copic coloring to my characters and also to the dunes.
I used the add on fancy die Skyline and cut it from black glitter paper and black cardstock.
To say I love the way it cam out would be a huge understatement!
I adhered the glitter portion flat then popped up the black panel with foam tape.
If you'd like to see the whole card come together and hear my silly stories please watch below :)
BAM!
A whole new world.
See what I did there?
I'm the last stop on the hop this time around.
I hope you've found some serious inspiration through out the hop.
I know I have.
Here's the complete list in case you missed a stop along the way.
Thanks for stopping by!
Supplies Mandella Card:

Supplies Aladdin Card: